About cdbbank
Leadership
Shareholding Structure

 

% of shares

Path Holdings Ltd

20.37%

Constantinos Shiacolas

17.52%

Delphis Investments Ltd

14.95%

Intergaz Ltd

9.96%

7Q Holdings Ltd

4.55%

7Q Invest I Multi Opportunities

5.44%

8Safe International Ltd

9.90%

Loramina Trading Ltd

6.80%

Leon Investment SARL

4.86%

Leonidas Ioannou

3.49%

CLR Investment Fund Public Ltd

1.41%

Sylvia Malgorzata Constantinou

0.22%

Argyro Nicolaou

0.20%

Natia Ioannidou

0.15%

Panikos Katsouris

0.11%

Antonios Yerolemou

0.07%
Management Body

Members

Christodoulos Patsalides

Chairman, Non Executive

 

Neoclis Nicolaou

Vice Chairman, Non Executive

 

Wahid Pierre Chammas

Non Executive

 

Andreas Loizou

Non Executive

 

George Loizou

Non Executive

 

Avgoustinos Papathomas

Non Executive

 

George Pavlides

Non Executive

 

Christodoulos Plastiras

Non Executive

 

Menelaos Shiacolas

Non Executive

 

Costas Argyrides

Executive Member

 

Stella Avraam

Executive Member

Secretary

Maria Agathokleous

 

Legal Advisers

 Chryssafinis & Polyviou

 

Auditors

KPMG Ltd

 

Registered Office

50 Arch. Makarios III Avenue Alpha House 1065, Nicosia CYPRUS
Organizational Structure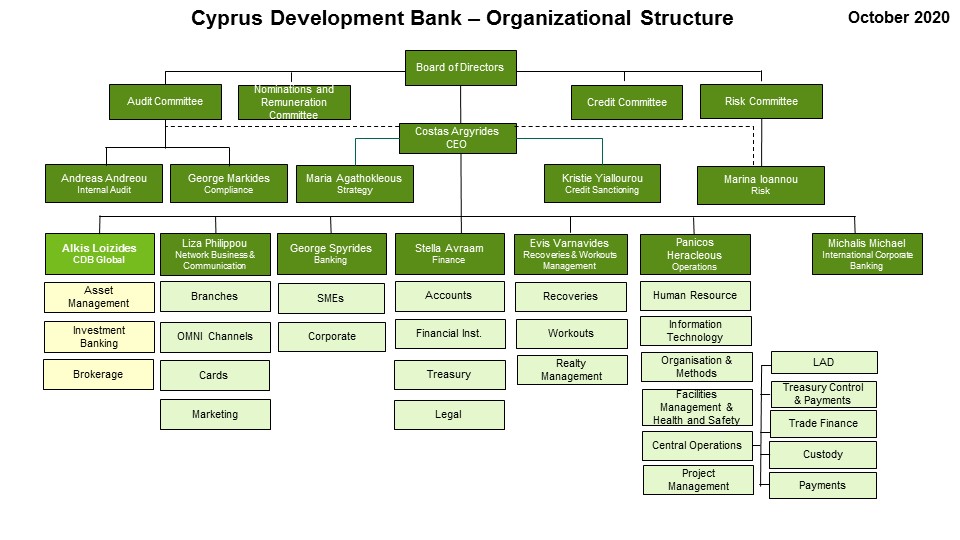 General Management

Costas Argyrides, 
Chief Executive Officer

Costas joined the Bank in 2017, from the Bank of Cyprus, where he held the position of Director, Wealth & Markets. Prior to that, he was the General Manager of the Cyprus Popular Bank UK. Costas holds a master's degree in Shipping Trade & Finance from Cass Business School and studied Economics at Queen Mary College, University of London. He is a member of the Chartered Institute for Securities & Investments (Chartered MCSI) and a member of the Board of the Cyprus Investment Fund Association.

George Spyrides,  General Manager Banking

George joined the Bank in 1986 and served the Bank from different positions throughout his career. He joined the Bank as Chief Accountant, was later involved in the establishment of cdbbank Russia where he served as Vice President for three years when he moved back to Headquarters and served as Manager of the Recoveries Department, Group Internal Auditor and then Group Risk Manager.  He is currently the General Manager of Banking. He is a qualified accountant with the Institute of Chartered Accountants in England and Wales and holds a B.Sc. degree in Economics & Accountancy from City University, London. 
GET IN TOUCH
CONTACT INFORMATION
cdbbank currently operates two business centers, one in Nicosia and one in Limassol, facilitating quick and personalised service. Our Client Relationship Officers ensure that you receive high-quality service at all times and that all your banking needs are catered with professionalism and a personal approach.
CONTACT US TODAY